27 LED Work Light Hook Flashlight - Perfect for Car, Camping, Picnic and More (Assorted Colors!)
Condition:
New
Brand:
GearXS
Item#:
27-LED-WORKLIGHT
Weight:
0.20 lbs
Availability:
In Stock
Description
Little Johnny was scared of the monsters in his closet. He had a nightlight, but it was not bright enough to see them. That is until, he got a super bright 27 LED Hook Flashlight! Now he will never be afraid of the dark. He shines the light right into his closet, and no monsters are there!
Bring light to virtually any place you need! No matter where you are you can have your own light source. The work light is great for dark closets, it even adds an extra hook to hang items with. Going camping? Bring your own light source with you! Just hang the LED work light and your tent will be illuminated for hours. There are so many ways to take advantage of such a simple, yet useful item. The 27 LEDS make this flashlight extra bright and long lasting!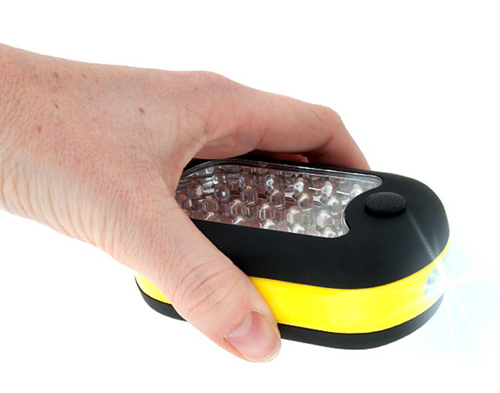 Features:
27 super bright LED lights
2 light modes switch between 24 side LEDs and 3 front LEDs
Lasts up to 50,000 hours
Body made of durable yellow and black ABS plastic
Folding hook for easy hanging
Built-in magnet for mounting to metal surfaces
Requires 3 AAA batteries (included)
Available in 4 Colors: Black, Blue, Red, and Yellow
Whats Included:
(1) 27 LED Hook Flashlight
(3) AAA batteries (installed in light)
Color Selected Randomly
Reviews (0)
Our Bestsellers For The Category