Magellan RoadMate 800 4.3-Inch Portable GPS Navigator
Condition:
Manufacturer Refurbished
Brand:
GearXS
Item#:
ROADMATE-800-R
Weight:
2.80 lbs
Availability:
In Stock
Description
Brought to you by the creators of Hertz NeverLost, the Magellan RoadMate 800 has the latest in turn-by-turn GPS guidance, plus built-in MP3 player and photo viewer making it a navigation and multimedia marvel. The 3.5" color touch screen shows your position with multiple views including a maneuver list. Simply select a destination and your Magellan RoadMate 800 GPS navigation system will guide you through every turn.

It automatically calculates the most direct route and recalculates whenever you take a detour or make additional stops. Routing options enable you to choose the best routing option for you - shortest time, shortest distance, stay on or stay off the freeway. Customize every trip to easily avoid toll roads or exclude selected streets. SmartDetour will automatically route around stopped freeway traffic. With the integrated rechargeable battery you can use your Magellan RoadMate 800 even when you don't have access to power.

Use it to view photos of your family and friends when you are away from home, listen to your favorite music with the built-in speaker or use the included headphones, or enter addresses and trips from wherever you are.

Built-in detailed street maps and over 6 million pre-loaded points of interest make it easy to find the nearest restaurant, gas station, ATM, airport and more. It has never been easier or more fun to get around town or take long trips to distant locations.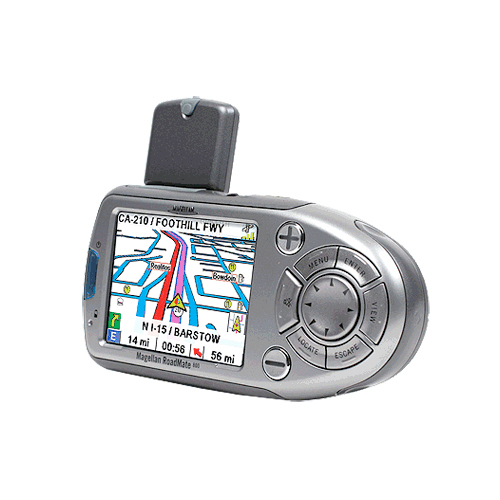 Features/Specs:
LCD TFT Display
3.6" Display
Touchscreen
3D Map View, Address Book, MP3 Player
Voice Navigation Instructions
Detour Feature, Least use of freeways, Most use of freeways, Points-of-Interest (POI), Route Recalculation, Shortest distance, Shortest time
2 Hour Battery Life
Canada Maps, Europe Maps, Puerto Rico, USA Maps
What's Included:
(1) GPS Unit
(1) Charger
All Accessories
Reviews (0)
Our Bestsellers For The Category